#{title}#{text}
#{title}#{text}
#{title}#{text}
#{title}#{text}
#{title}#{text}
0
added to delivery
PEACHES - (ORGANIC) EA.
$1.60
Here are some tips to tell when a peach is ripe and ready to be eaten: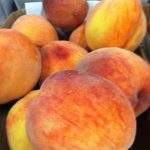 It has a sweet smell
When a peach gives off a sweet aroma, it's a good sign that it's ready to be enjoyed. No smell usually means no taste for many varieties. On a warm, sunny day you should be able to smell the fruit just by standing near it. The scent can be impossible to resist!
It is slightly soft
If the peach is firm to the touch, it's not ready. Wait until there is some "give" when it is gently squeezed. Never squeeze too hard- it will result in bruising!
It is the right color
A ripe peach has a dark yellow color. It's not necessarily red, that's simply the color that comes from direct sun exposure. If the peach is green or even has any hint of green left on it, it needs more time on the tree. A green peach is certainly edible but it's not going to be as sweet and juicy.
It is the right shape
A peach becomes round as it ripens.
FPO
Customers also added these items